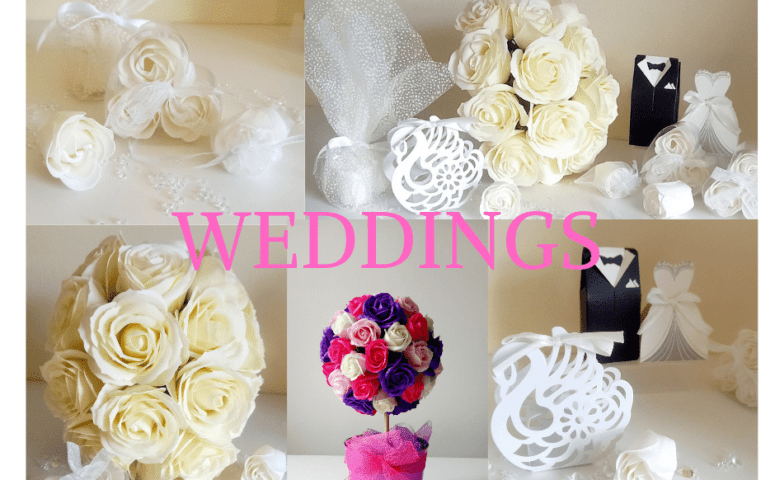 Introducing our Weddings Dept... Easier soap flower ordering..... New for Kids..... and ..... Fathers day
Weddings and other stories......
Hello all, I thought I'd just write a little bit about what we are up to,  and what is coming up.
With lockdown restrictions lifting, how nice is it to see friends and family again?  With that in mind, and with people re booking their weddings and setting dates, we have created  a Wedding Section 
We can create soap flower wedding centre pieces, gifts for the mother of the bride and groom, wedding favours…. Even a simple soap flower bridal bouquet – although you'd have to be inside – soap flowers dissolve when wet!!  They do make great wedding gifts though, both the favours and the bouquets, as they can be kept for a very long time if you don't want to use them. so please do visit our new section if you are planning a wedding.  We can source whatever themes you like, it doesn't have to be what we stock.
Fathers day will be upon us before we know it, and we are planning some fathers day hampers with a theme.  Similar to Christmas when we did the themed cups – golf, darts, beer etc, we are going to be doing some of those with 'DAD' quality chocolate bars and teas and coffees with the cups and other little treats.  I'm still researching these.  I am likely to be getting more of the FOR MEN bath bombs inspired by Creed and Diesel which sell out as soon as I get them in!!
We have also expanded the childrens range to include some Building Block Soap (shaped like Lego), unicorn snap bands, Temporary tatoos, and football bath bombs to name but a few!
Iv'e also made ordering of the soap flowers a little bit simpler, with 3 categories – no box or bag, these are collection only, (although I can delivery these locally), they are just placed in one of our white bags.  Boxed posies in two sizes, these can be posted anywhere in the UK for £3 via Hermes. Then the 3rd option – split into 2 sizes are the 12 stem Transporter Vases and the 24 stem Transporter vases, both come cellophaned with message card.  These ones cannot be posted, but can be delivered locally or collected from CaLi Creations WF157EH
Stay safe everyone, enjoy the sunshine, and keep shopping locally!
Love Dawn x